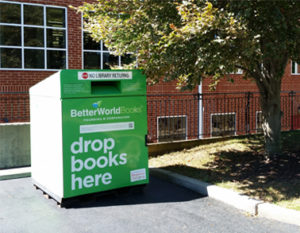 The Friends of the Grandview Library welcome your used book donations in a new way that will continue to help the library as well as literacy projects around the world!
The Friends have partnered with online bookstore Better World Books, which collects new and used books and resells them online in order to fund and support non-profit literacy groups.
The Friends receive a portion of the sales, which is used to support Library programs, equipment, and other needs.
OUTDOOR DROP BOX
Books in good condition (free of mildew, mold, and dirt, with no missing pages) can be donated by dropping them into the green Better World Books drop box in the main parking lot by the Library Lawn.
Book donations will no longer be received inside the building — please use the Better World Books drop box.
Do not put your library books into this drop box — only books you are donating.
Tax deduction forms are available at the Circulation desk in the Library.
This ongoing fundraising campaign replaces indoor donated book sales that were held throughout the year at the Library.
ACCEPTED ITEMS
Books and monographs
Antiquarian, rare, and collectible books (example: special collections)
Children's books
College textbooks (published within past 10 years)
Foreign language books (in Western script)
Hardcover fiction and nonfiction
Mass market paperbacks
Trade paperbacks
DVDs and CDs
ITEMS NOT ACCEPTED
Activity books and workbooks (example: coloring books)
Annuals and yearbooks
Audio cassettes, VHS tapes, LP records, and computer software
Books published by magazines (example: Reader's Digest Condensed, Time-Life Books)
Britannica and World Book Encyclopedia
Case law and procedural books
Custom course packets
Dated reference material (over 5 years old)
Directories and telephone books
Duplicate copies (in excess of 20 copies per title)
Free copies, examination copies, or advanced reading copies
Journals and periodicals (example: literary criticisms)
Microfilm and microfiche
Newspapers and magazines (example: National Geographic)
Non-Western script books
Tax and government documents or forms
BARGAIN BOOK SHELVES
Find great deals on discarded Library items (books, music, movies, and more) in the downstairs Study Commons whenever the Library is open.
Questions? Call Circulation at 614-486-2951.
http://www.ghpl.org/wp-content/uploads/2016/04/ghplnewlogo4.png
0
0
The Grandview Heights Public Library
http://www.ghpl.org/wp-content/uploads/2016/04/ghplnewlogo4.png
The Grandview Heights Public Library
2015-09-20 17:40:40
2017-10-24 14:07:25
Used book donation box