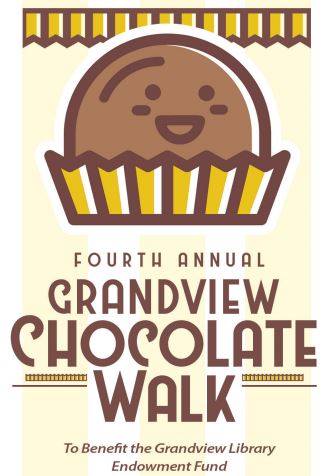 Get tickets to the 4th Annual Grandview Chocolate Walk, a unique walking tour of Grandview Heights featuring chocolate stops at participating businesses.
The event takes place on Thursday, May 25, 5-8 pm, and benefits the GHPL Foundation while highlighting the outstanding, pedestrian-friendly Grandview Heights business district.
Tickets are $25 and are limited. Purchase here. Purchased tickets will be available the day of the event at GHPL's Circulation desk beginning at 4 pm.
Visit ghpl.org/foundation and the GHPL Foundation's Facebook page for more information. Join the Facebook event!
Participating Businesses:
First Avenue
• Studio Posh
• La Tavola
• Doggie Day Spa
• Mystic Sisters
Grandview Avenue
• Pure Imagination Chocolatier
• Village Squire Barber Shop
• O'Malley Real Estate
• Grandview Theater
• Peabody Papers
• Candle Lab
• Stauf's Coffee Roasters
• Jeni's Splendid Ice Creams
• Big Mama's Burritos
• The Oilerie
• Avola Lanza Hair Studio
• Grandview Grind
• Accent On Nature
• State Of Devotion
• Matt The Miller's Tavern
• Z Cucina
• Grandview Cafe
• Balboa
• Cottage Street
• The Smithery
• Vernacular
• The Blowout Bar
• Grandview Dental Care
http://www.ghpl.org/wp-content/uploads/2016/04/ghplnewlogo4.png
0
0
The Grandview Heights Public Library
http://www.ghpl.org/wp-content/uploads/2016/04/ghplnewlogo4.png
The Grandview Heights Public Library
2017-05-05 14:27:15
2017-05-05 14:27:15
Grandview Chocolate Walk