Friends of the Grandview Library
---
Since 1974, the Friends of the Grandview Library raise & donate thousands of dollars each year for the library, funding events, services, facilities, and other needs.
SPECIAL EVENTS

Flights with Friends
Enjoy delicious samples and the latest library releases at monthly socials at different locations around Grandview Heights. Hosted by the Friends to benefit the library. Upcoming dates & locations:
Grandview Theater and Drafthouse
Thursday, May 18, 7-8:30 pm.

Tickets are $12 for Friends members, $15 for non-members.
Remaining tickets will be available at the event based on availability.
For ages 21 and up.
5th Annual Herb & Veggie Plant Sale
The Friends of the Grandview Library are selling a wide variety of high quality herbs and vegetables just in time for spring planting.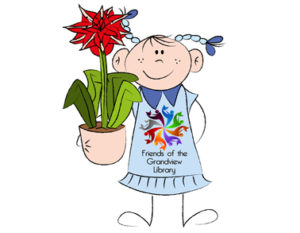 Order deadline: Extended through April 15, 2017
Pickup date & location: Saturday, May 13, from 8-11 am, at 1263 Oakland Ave. (just north of the library)
Local delivery: Offered for a small fee
All proceeds benefit the library
Call 614-486-2954 for more information
FUNDRAISING CAMPAIGNS
Used Book Donation Box
Books in good condition can be donated by dropping them into the green Better World Books outdoor drop box in the main parking lot by the Library Lawn. This ongoing fundraising campaign replaces indoor book sales that were held throughout the year at the library. The Friends have partnered with online bookstore Better World Books, which collects new and used books and resells them online in order to fund and support non-profit literacy groups. The Friends receive a portion of the sales, which is used to support library programs, equipment, and other needs.
Bargain Book Shelves
Find great deals on discarded library items (books, music, movies, and more) in the downstairs Study Commons whenever the library is open.
JOIN THE FRIENDS
Become part of an energetic, committed group of supporters who believe an excellent library makes a difference in the life of their community. A membership at any level makes a great gift idea.
Membership forms are also available in the Atrium or in Circulation. Gifts and/or membership fees (other than Lifetime Memberships) are not tax-deductible. The Friends is not a tax-exempt organization.
Annual Memberships

Students & seniors (ages 60+) – $10
Individual – $15
Family – $25
Best Friend / Business – $50

Lifetime Memberships

Individual – $200
Family – $250
The Friends provide:
Support for the library throughout the community
Summer Reading Club materials
Refreshments, prizes, and/or gifts for library functions
Equipment such as photocopiers, display units, and book carts
Sponsorship of special entertainment for children's activities
Assistance during library levy campaigns
Inexpensive books for avid readers through the Bargain Book Shelves
And much more
For more information, please call Administration at 614-486-2954.