About GHPL
---
The Grandview Heights Public Library (GHPL) is an award-winning, independent suburban library system known for progressive leadership and friendly, personalized service.
Library Journal has named GHPL one of America's best public libraries, ranking it 2nd in the nation in its size category for 4 consecutive years. GHPL is one of only 17 libraries nationwide to receive 9 consecutive five-star ratings.
GHPL is a founding member (1988) and Administering Library of the Central Library Consortium (CLC), a cooperative among 14 Central Ohio library systems.
Apply for a GHPL Card
GHPL card
Any resident of the State of Ohio may register for a card free of charge.
Apply online or in person in Circulation on the second level of the library.
Cards will only be issued in person.

Visit the library and show a form of identification to verify your address and Ohio residency. A state-issued photo ID or driver's license with current address is best.
For minors (anyone under 18 years old), applications must be filled out by a parent or guardian in person.

Each account has a 4-digit PIN (Personal Identification Number) which is assigned by the patron. If you have not entered a PIN in your registration form, the system will automatically assign the last four digits of your phone number.

Your PIN increases the security of your card and is private.
If you forget your PIN, select the "Forgot Your PIN?" feature at My Account. It will be emailed to the email address registered to your account.
Staff will not be able to access it, only reset it. If staff resets it, please choose another PIN for your protection the next time you log in to your account.

A GHPL card gives you access to 5 million+ items from the 14 Central Ohio member libraries of the Central Library Consortium (>CLC).

GHPL cards can be used at most CLC member libraries.
Most items can be returned to any CLC member library.
Browse and reserve items at My Account.
Access E-books/Digtial Media on our website.
Use public computers in Reference on the second level of the library.
Borrower's Guide
Loan periods
Loan periods vary by the type of item. Most items automatically renew when due, up to the maximum number of renewals, unless requested by other patrons.
DVDs/Blu-ray – 7 days or  14 days
"Hot Picks" books – 7 days
New adult fiction books – 14 days
New adult nonfiction books – 28 days
Audiobooks – 28 days
Compact discs & vinyl records – 14 days
Video games – 7 days
Magazines – 7 days
Preloaded e-readers – 28 days
Super 8 Slides & Negatives Scanner – 14 days
E-books/Digtial Media – vary
Acoustic guitars – 28 days
Board games – 28 days
All other items – 28 days
Loan limits
For the first 30 days, 10 items may be borrowed out at any one time.
After 30 days, if your card is in good standing (you have less than ten overdue items and owe less than $10), 100 items total may be borrowed at one time. Maximum limits on specific items:

Books – unlimited (up to 100 items total)
CDs – 40
DVDs/ Blu-ray – 20
Video games – 5
Vinyl records – 3
Preloaded e-readers – 1
Guitars – 1

We reserve the right to limit certain collection areas, if needed.
Renewing items
For your convenience, most items automatically renew when due, up to the maximum number of renewals, unless requested by other patrons. If your account is not already set up for email notices, select email notifications at My Account to receive them.
Automated phone renewal: 877-77-BOOKS (877-772-6657)
Call Circulation at 614-486-2951 or Youth Services at 614-481-3778 during open hours.
Returning items
You may return items to GHPL or any CLC member library. Outdoor book drops are available. If they are full or jammed, do not force material into the slot or leave items outside on the ground; you will be responsible financially for left items that have been stolen. Contact the library regarding book drop issues.
Reserving items
Log in to My Account or visit the library for assistance. You can have up to 75 holds on your list at a time.
Suspended Holds
Holds may be suspended only if the status says "Requested". Once an item status says "Shipped" or "Held", it cannot be suspended. There are two ways to suspend your holds:
Log in to My Account. Select the "Requests" tab, and select the items you wish to suspend. Scroll down to the bottom of the page and select "Suspend/Reactivate Selected". In the "New Activation Date" box, enter the earliest date you want your hold to be reactivated.
Call Circulation Services (614) 486-2951 or Youth Services (614) 481-3778 and ask us to suspend your holds until a specific date.
NOTE: If the status says "Held" and you are unable to pick it up by the "held until" date, call the library 614-486-2951. We can check the item out to you and put it back on the hold shelf.
Overdue items & fines
Adult books and magazines – 20 cents/day
Large print books – 20 cents/day
Children's print & audio – 10 cents/day
Audiobooks – 20 cents/day
CDs – 20 cents/day
Vinyl LPs – 20 cents/day
DVDs & Blu-rays – $1.25/day
Video games – $1.25/day
Preloaded e-readers – $3/day
Slide and negative scanners – $3/day
Acoustic guitars – $1.25/day
Board games – 10 cents/day
Fines $10 and over must be paid in full or partially paid before more items may be checked out.
You may have only 10 overdue items on your card at a time.
The maximum overdue fine on a returned overdue item, excluding preloaded e-readers, is $5. The maximum overdue fine on a preloaded e-reader is $50.
If you find and return a lost item you have already paid for within 60 days of payment, you will be refunded the replacement cost. However, the $5 processing fee is not refundable.
Pay fines online or at the library by Mastercard, Visa, Discover, American Express, check, or cash. Call Circulation 614-486-2951 with any questions.
Overdue policy for ages 60 & older
People ages 60 & older are exempt from overdue fines for all materials except movies, video games, and preloaded e-readers.
There will be a grace period of three days after the due date on DVDs, Blu-rays, and video games for ages 60 & older, if returned within the three-day grace period. On the fourth day, fines accrue for all dates after the original due date. (For example, if a movie is due on Monday, there is no fine for returning it on Tuesday, Wednesday, or Thursday. But, if it is returned on Friday, there is a $5 fine for being four days overdue.)
Avoiding overdue fines
The main way to avoid fines is to return your borrowed items on time. Most items automatically renew when due, up to the maximum number of renewals, unless requested by other patrons. Items returned to the library's outdoor book drop before opening time the next day are not considered overdue and will not incur a late fine.
In some instances, you may be charged an overdue fee when you return your items at another CLC library prior to opening time . If this occurs, please call our Circulation Department (614-486-2951), and we will waive the charge.
Collection agency used for outstanding materials & fines

The library uses a collection agency, Unique Management Services (UMS), to protect access to materials for all patrons and to maintain fiscal responsibility.
On accounts of $25 or more:

For lost, damaged, or long-overdue materials, the library sends two overdue notices and a third notice – a bill. If the account is not resolved within 30 days after sending the bill, the library will give the information to UMS and we will add a $10 fee towards the cost of UMS's services.
The agency will then make several attempts by letter and by telephone to encourage patrons to return items to the library or pay all fines & fees.
Patrons are encouraged to return items and pay fines at the library, at any time during the process.
Lost/Replacement cards
Report a lost or stolen card immediately since you are financially responsible for all items checked out on your card, until they are checked in. Replacement cards can be purchased for a $2 fee.
Homebound Delivery
Do you know someone in the Grandview Heights/Marble Cliff area who is homebound – even on a temporary basis, such as an illness – who would like to have library materials delivered to his or her home?
GHPL Volunteers deliver books, large print books, audiobooks, and some DVDs to area homebound residents on Thursday mornings.
The homebound patron may select titles, or have library staff choose for them.
For more information, contact Maryanne at 486-2951 or mjackson@ghpl.org
DVD/CD disc cleaning tips
If a GHPL disc severely damaged, contact Circulation at 614-486-2951 or let a staff person know when you visit the library.
Central Library Consortium (CLC)
GHPL is an independent suburban library system. However, it is part of the Central Library Consortium (CLC):
14 Central Ohio library systems sharing materials, resources, and expenses.
5 million items available to 1.3 million residents across six counties.
Founded in 1988 and funded by a LSTA grant written in part by GHPL, a founding member and current Administering Library.
Among the first in Ohio to institute daily delivery among the members, to share materials, and to cooperatively license databases.
CLC member libraries (location map):
Grandview Heights Public Library
GHPL PopUp Library
GHPL introduced an electric-powered, mobile library in 2015, funded with private money by the GHPL Foundation.
The GHPL PopUp Library is a low-speed, electric vehicle specially customized to transport and display library materials. Visitors can browse and check out a selection of materials, get a library card, and learn more about library resources and services from staff.
The PopUp Library will keep a regular schedule of visits throughout Grandview Heights and Marble Cliff, including: outreach, school visits, park and pool visits, and local special events like the Grandview Hop, Grandview Digfest, Tour De Grandview, Grandview Farmers Market, and the Memorial Day Parade.
The selection of popular materials for kids and adults changes according to the theme of each visit.
A GHPL staff team created the vehicle concept and worked to create a graphic design with Mike Dexter, a Grandview resident and GHPL volunteer who has designed logos for the City of Grandview Heights, The Grandview Area Chamber, The Lazy Daze of Summer Festival, and more.
GHPL PopUp Library video on Vine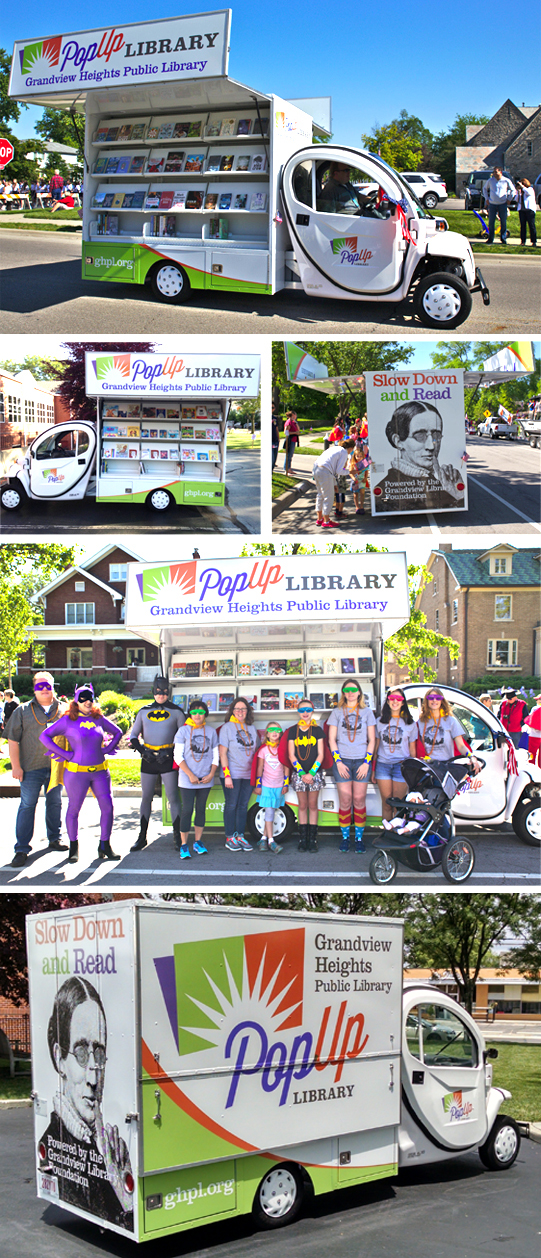 History

On January 11, 1923, the Grandview Heights Board of Education approved a plan for the establishment of a public library in Grandview Heights. In June 1924, the Grandview Heights Public Library opened its doors in a room in the Grandview Heights High School.
After moving to four different rented sites on First Avenue, the library moved to the present location, 1685 West First Avenue, in September, 1936. The building was built with WPA funds on land donated by George Cambridge Urlin, one of the founding fathers of Grandview Heights.
In addition to the High School branch, various branches have been added over the years: one in Robert Louis Stevenson Elementary School in 1926, an Upper Arlington branch at Miller Park in 1942, and the Tremont Library in the 1950s. In the 1970s, the Upper Arlington Public Library became an independent system, which included the Miller Park branch and the Tremont Library.
The library now has one building and does not include the libraries in the Grandview Schools. It is a founding member and Administering Library of the Central Library Consortium (CLC), a sharing of resources & expenses among 14 Central Ohio library systems founded in 1988.
Major renovations & projects
1941: Reference Room Addition
1952: Children's Department Addition
1973: General Remodeling and Expansion
1977: Balcony Addition
1980: Parking Lot Expansion
1989: Large Addition and Remodeling
1995: Youth Services Department Remodeling
2008: Audiovisual Remodeling
2009: Consolidation of Circulation and Audiovisual Departments
2009: Parking Lot added across Oakland Avenue
2010: Opened The Study Commons
2011: Opened "The Basement" (area for 7-12 graders)
2011: Interactive Area added in Youth Services
2012: Story Time Area added in Youth Services
2013: Provided a Drive-Up Book Drop
2014: Free WiFi offered in Grandview parks
2015: GHPL PopUp Library introduced
Directors
Ryan McDonnell, 2013-Present
Mary Ludlum, 2008-2013
Carol Pelz, 1985-2008
Carol Haenicke, 1984-85
Kathryn Hannon, 1967-84
William Bacon, 1960-67
Josephine Swinehart, 1928-60
Bonnie Elliot, 1927-28
Mildred Sandoe, 1924-27
Helen Kramer, 1924
Statistics
Grandview Heights Public Library (GHPL)
25,807: Active Users
650,098: Annual Circulation
32,968: Public Internet Annual Usage
34,008: Annual Reference Transactions
11,642: Average Weekly Visits
592: Annual Library Events
30,728: Annual Event Attendance
Central Library Consortium (CLC)
GHPL is a founding member and Administering Library of the CLC, a sharing of resources & expenses among 14 Central Ohio library systems founded in 1988.
1.3 million: Card Holders in Central Ohio
5 million: Total Items
1 million: Unique Titles
26 million: Annual Items Circulated
2.1 million: Annual Item Requests
Ohio Library Council (OLC) 
From the OLC's The Return on Investment of Ohio's Public Libraries, a comprehensive assessment of the value of Ohio public libraries to the state's residents:
1st in the nation: Library Transactions Per Capita (20.3; more than 2x the national average).
1st in the nation: Library Visits Per Capita (7.5 average yearly visits per person; 51% above the national average).
2nd in the nation: Registered Borrowers (77.7%; 55% above the national average).
$2.88: One of the lowest Costs Per Library Transaction (41st nationally; 68 cents below the national average cost).
$2.7 billion: Direct economic value of Ohio's public libraries to Ohio residents in 2014.
$3.89 for every $1: Return on Investment (ROI) from Ohio's public libraries.
$5.48 for every $1: Return on Investment (ROI) from Ohio's public libraries, when economic multiplier effects are included.
88%: Local tax requests by libraries approved by voters since 2010.
Board of Trustees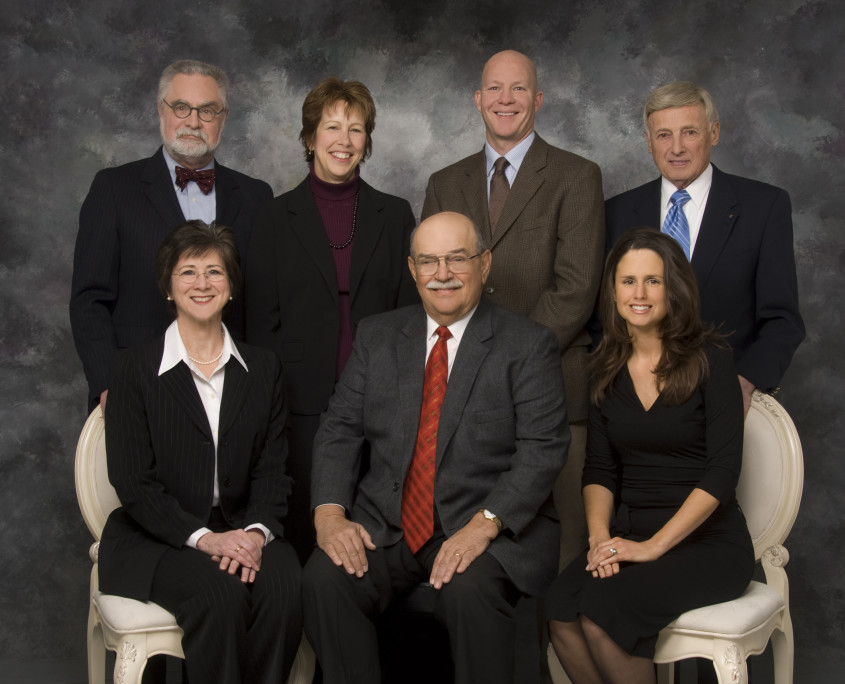 Back row: Eugene R. King; Deborah Sisinger; John E. Evans, Vice President; Dr. Edgar T. Shaudys.
Seated: Teri A. Williams, Secretary; Alphonse P. Cincione, President; Amy Day.
The Board holds its regularly scheduled, public meeting on the third Tuesday of the month at 6 pm in Conference Room A of the library.
Careers
Employment Application (fillable PDF)* are available at all library desks or call us at 614-486-2954. Completed applications are kept on file for one year.
* If you have Adobe (free) on your computer:
Download the Employment Application to your desktop.
Complete application and save it by clicking on the printer icon.
Under "Destination," click on "Save as PDF."
Attach PDF file to email.
Current openings
Library Policies
The GHPL Policy Handbook provides the rules, standards, and principles that guide the operation and the use of the library. The GHPL Board of Trustees creates, reviews, and revises policies, and implements them with the assistance of library staff.