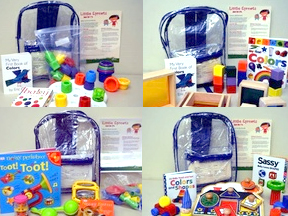 Help your child get ready for Kindergarten by borrowing an Early Learning Backpack from the Grandview Heights Public Library (GHPL).
Thirty-one backpacks from the Early Childhood Resource Center are available from the library, thanks to a $2,139 grant from the Grandview Heights/Marble Cliff Education Foundation.
Each themed backpack includes high-quality early learning materials, books, and activities with easy-to-follow activity guides that make learning fun. Learning is supported by incorporating the four Early Learning Content Standard areas: Social Studies, Language Arts, Math and Science. Tools for social and emotional development also are provided.
GHPL and the Education Foundation have partnered to create this lending program as a way for parents and caregivers to ensure kids are ready for Kindergarten and to support Ohio's Kindergarten Readiness Assessment. In 2015, GHPL and the Education Foundation partnered to provide GHPL's Acoustic Guitar Lending program, which focuses on music education through hands-on collaborative learning for all ages.
Backpacks are available and on display in Youth Services on the lower level of the library.
Backpacks circulate for 28 days, are available for checkout only at GHPL, and must be returned to GHPL. Overdue fines are 10 cents per day.
http://www.ghpl.org/wp-content/uploads/2016/04/ghplnewlogo4.png
0
0
The Grandview Heights Public Library
http://www.ghpl.org/wp-content/uploads/2016/04/ghplnewlogo4.png
The Grandview Heights Public Library
2016-08-12 15:03:23
2017-06-19 10:19:33
Early Learning Backpacks