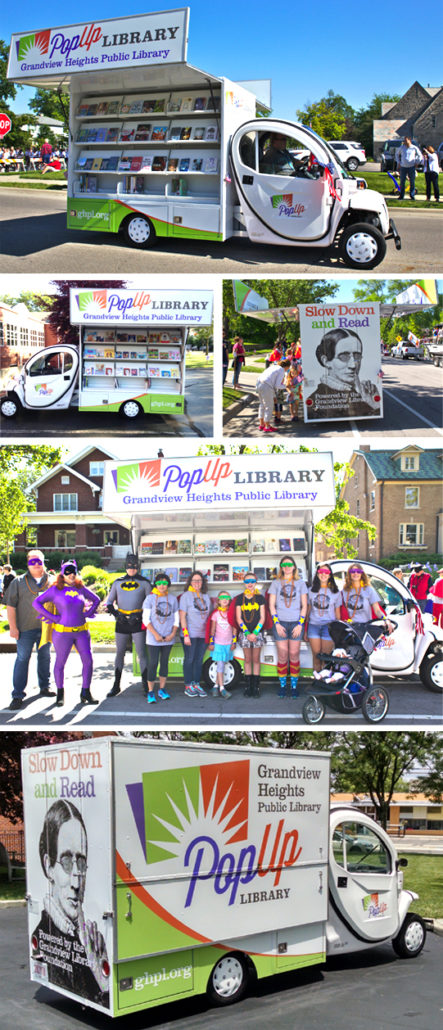 The Grandview Heights Public Library (GHPL) is on the go with a new mobile library!
GHPL's PopUp Library is a low-speed, electric vehicle specially customized to transport and display library materials. Visitors can browse and check out a selection of materials, get a library card, and learn more about library resources and services from staff.
The PopUp Library will keep a regular schedule of visits throughout Grandview Heights and Marble Cliff, including: outreach, school visits, park and pool visits, and local special events like the Grandview Hop, Grandview Digfest, Tour De Grandview, Grandview Farmers Market, and the Memorial Day Parade.
The selection of popular materials for kids and adults will change according to the theme of each visit.
"It's a terrific way to engage the community," said GHPL Director Ryan McDonnell. "The PopUp Library is an exciting way to communicate our services outside of the library. We love getting out in the community and meeting new people. The response has been amazing."
The vehicle is funded with private money from the Grandview Heights Public Library Foundation, who funded GHPL's Free WiFi in Grandview Parks project in 2014.
"It's another example of GHPL and the Foundation reaching out and working with the community in innovative ways," said Foundation President Krista Sturbois. "The PopUp Library is generating a lot of excitement."
A GHPL staff team created the vehicle concept and worked to create a graphic design with Mike Dexter, a Grandview resident and GHPL volunteer who has designed logos for the City of Grandview Heights, The Grandview Area Chamber, The Lazy Daze of Summer Festival, and more.
Questions? Contact Administration at 614-486-2954.
Share photos/video on Facebook, Instagram, and Vine!

Photos by Kevin Weissman
http://www.ghpl.org/wp-content/uploads/2016/04/ghplnewlogo4.png
0
0
The Grandview Heights Public Library
http://www.ghpl.org/wp-content/uploads/2016/04/ghplnewlogo4.png
The Grandview Heights Public Library
2015-06-01 17:07:03
2016-05-24 20:36:52
GHPL PopUp Library